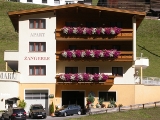 About
Apart Zangerle
Angelika & Rainer Zangerle

6555 Kappl
Wiese 329
Tel. +43 5445/6546-4
Fax DW 6
Useful information or conditions of contract
Reservation
Booking or reservations are only available written.
Booking conditions
Cancellations are only accepted in writing and and are free of charge up to 3 months before the holiday begins. As of one month before the holiday begins, we charge 80%, and one week before the start of holiday 100% of total stay booked.
Late arrival / early departure
In case of late arrival or early departure is made no refund, therefore always the total amount of the booked stay has to be paid.
Payment
Please settle your account on the day of arrival, bearing in mind, that in our house only cash payment is possible.
Check-In and Check-Out
On the day of arrival the apartments will be ready from 3 pm. On the day of departure the rooms have to be enabled till 9:30 am. If your arrival delay and you arrive after 5 pm, we request you to inform us by a quick call. To check-in you will need an ID card or passport.
Allergy and cots
We are glad to provide you an allergic bed as well as it's possible to borrow a cot.