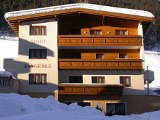 Winterseason 2022/2023
Kappl
Ischgl
Useful Info and Conditions
Reservations


Bookings and reservations are only valid in written form.

Booking Conditions


Cancellations can only be accepted in written form. The Austrian hotel business contract conditions apply. We recommend getting a travel cancellation insurance. For all important details consult the follwoing document: Infosheet for European travel cancellation insurance - Hotel Storno Plus" - which also applies for cancellation causes related to COVID-19: for more information click here.

Down Payments


For a fixed Reservation we requre a down payment.

Check-In and Check-Out


The apartments are ready for you on the day of arrival at 3:00pm. On the day of departure you can use your apartment up to 9:30am so we can ready it for the next guests. Should you be unable to arrive before 6:00pm, we ask that you contact us via phone call. For check in a valid passport or ID are required.

Delayed Arrival / Premature Departure


We ask you to understand that in both cases a refund of your missed time here will not be possible.

Payment


Please make sure to pay on the day of arrival and make note that only cash payment can be accepted.

Internet


Free Wifi is availible in the whole house.

Smoking Policy


We are a strict no-smoking facility.

Parking


Parking spaces are provided in front of the house.

Pets


Please understand that we can not shelter your pets at our hotel.

Anti Allergic Beds and Cribs


When informed we can of course provide anti allergic beds as well as cribs for babies and toddlers.

AGBH


The Austrian hotel business contract conditions apply to your stay with us.