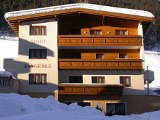 General Data Protection Regulation
Declaration on information obligation
The protection of your personal data is very important to us. Therefore we process your data exclusively on the base of the legal regulations (DSGVO, DSG 2018). On this page we inform you about our privacy policy and the most important aspects of data processing within our website.
Contact us
If you contact us via website or e-mail, your specified data will be processed and deleted after completion. We do not share this data.
The data will be sent unencrypted to the server, so please never share confidential data, such as Credit card number, date of birth or similar data. We will not ask for such data.
Cookies
Our website uses so-called cookies. These are small text files that are stored on your device using the browser. They do no harm. Cookies are not used on personal data and are used solely for the presentation of the website.
If you do not want this, you can set up your browser and it will inform you about the setting of cookies and you can allow them only in individual cases.
Disabling cookies may limit the functionality of our website.
Web analytics tool
We do not use web analytics tools.
Google Maps
We use Google Maps for viewing our location, please refer to their Terms of Use. We use Google Maps from Google Inc. (1600 Amphitheater Parkway Mountain View, CA 94043, USA) on our website. By using the features of this map, data will be transmitted to Google. What data Google collects and how it uses this information can be found at https://www.google.com/intl/de/policies/privacy/.
Your rights
Basically you have the rights of/to
access by the data subject (article 15)
rectification (article 16)
erasure ('right to be forgotten') (article 17)
restriction of processing (article 18)
data portability (article 20)
object (article 21)
These rights are defined in the General Data Protection Regulation in Articles 16 - 21.
If you think that the processing of your data goes against data protection law or your data protection claims have been violated in an other way, you can also file a complaint with the Data Protection Authority. Information about the Austrian Data Protection Authority can be found here: www.dsb.gv.at
We are always at your disposal regarding privacy issues and concerns.
Contact us by the following contact details:
Angelika & Rainer Zangerle
6555 Kappl
Wiese 329
Tel. +43 5445/6546
Fax DW 6
E-mail:office@apart-zangerle.at